Insider Tips for an Excellent Visit to the Boston Flower Show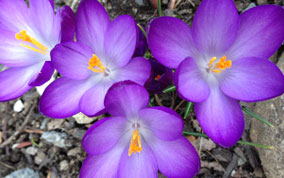 Planning to visit the Boston Flower Show? Sunny Window has been participating for over 30 years – so we know a thing or two about getting the most out of this wonderful, annual rite of spring. The BFS is New England's biggest flower and garden show, and it's a popular, busy, high-energy event. Here are a few of our insider tips for a truly enjoyable trip:
Buy tickets in advance online – you'll save yourself a whole lot of time waiting in the ticket line and just sail right up to the entrance. There are no extra fees charged for purchasing tickets online, so why not? For ticket details and options, click here.
Take the new shuttle and know your parking options. Make parking a breeze and save money by taking advantage of the Flower Show's new, free shuttle that will run continuously to & from the Marine Central lot about 7 blocks away from the Show. This lot is downright cheap compared to the options closer to the Seaport World Trade Center. You can also walk from the parking to the show in 10-15 minutes and enjoy an easy, scenic stroll along the harbor. With all the construction going on in the Seaport District, the available parking changes often. The Boston Flower Show keeps an up-to-date listing of nearby parking lots (with prices) on their web site - to review the options, click here.
Come after 5pm. The evenings at the "Flower Show after Dark" are wonderfully uncrowded – and tickets are $5 less per person! Besides saving money, there are many great reasons to come later: nearby parking is easier to find, the bars are open inside the show so you can sip a cocktail while you wander the gardens, and you'll find the time and space to enjoy the gardens and flowers in a truly relaxed, refreshing, and even peaceful atmosphere. On top of all that, there are now dozens of terrific restaurants within 2 blocks of the Show where you can enjoy a late dinner afterwards or an early one beforehand.
Midday is really busy, so be prepared. The show is bustling from noon to 4pm and can be downright crowded, especially on Friday and Saturday. Try arriving as soon as the show opens at 10am – the parking shuttles start running an hour before. We suggest heading straight for the gardens so you can take them in before they get chock-full. Then, when the gardens are brimming with people, you slip away for lunch, a demonstration or presentation, or begin browsing in the marketplace. Your ticket allows you to leave and return, by the way – just be sure to get your hand stamped.
Visit Sunny Window – don't forget to stop by and say hello at Booth 746. You know we'll be delighted to see you!
We hope you find these tips helpful and we look forward to seeing you at the show!