Lavender - Sunburn Relief Superstar!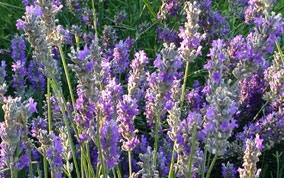 Lavender is rightly famous for its fragrance and beauty, but its formidable healing properties are the star of the show during sunburn season. Sunscreen is the best defense, of course, but sometimes we don't put on as much as we should, apply it as often as we should, or just miss a spot. If that happens to you, and you end up with a mild or moderate sunburn, lavender can come to the rescue to relieve discomfort and speed healing. (Always seek medical attention for serious sunburns.)
Here are our favorite ways to use lavender to lessen sunburn pain and heal tender sunburned skin:
Straight up: For a small area of sunburn, on a shoulder, for example, or the top of a foot, try just 2-3 drops of lavender essential oil applied directly to the area.
Diluted: On larger areas, try our fresh lavender spray (or make your own with lavender essential oil and water) and spritz a cooling mist over the affected area, or make cool compresses with your lavender/water mix and gently apply. Repeat as often as necessary. Aloe juice may also be combined with lavender essential oil for a healing spray.
In the bath: Use lukewarm or cool (not cold) water and add 8-10 drops of lavender essential oil to your bath. Soak in the bath for as long as you can – it's great aromatherapy and so soothing! For extra comfort and healing, try adding a couple handfuls of oatmeal or baking soda to the bath. After the bath, gently pat yourself dry and then try...
Aftercare: mix 3 drops of lavender essential oil with about a quarter-sized dollop of jojoba, sweet almond oil, coconut oil or another plant-based oil in your palm (or a little bowl) and gently apply to the sunburned area to moisten and protect it. We particularly love jojoba for its ultra-lightweight feel and anti-inflammatory properties, and because it has no scent of its own, the lavender shines right through. Another soothing option is to mix the lavender essential oil in similar proportions with aloe gel or juice.
Even if you don't have a sunburn, these lavender remedies will pamper your skin, and if you do, well, your skin deserves pampering all the more. Enjoy your summer!
---
View Related Products